Cruise Destinations
Indonesia is a country of geographical extremes, and without doubt the world's most complex single nation, comprising of 17,000+ islands stretched over 5200 km from Banda Aceh, on the tip of Sumatra in the west, to the remote highlands of West Papua in the east.
Of those many islands three – New Guinea, Borneo and Sumatra – are among the world's largest, only 6,000 actually have names and less than 1,000 are inhabited.
New Guinea in the east, is the world's second largest island (after Greenland) and is divided roughly 50/50 with Papua New Guinea, with Indonesia having the western half (West Papua) and the eastern half forming the mainland of PNG. While Borneo, the third largest island in the world, is shared with Malaysia and Brunei, with the lion's share of about 73% belonging to Indonesia and forming the provinces of Kalimantan.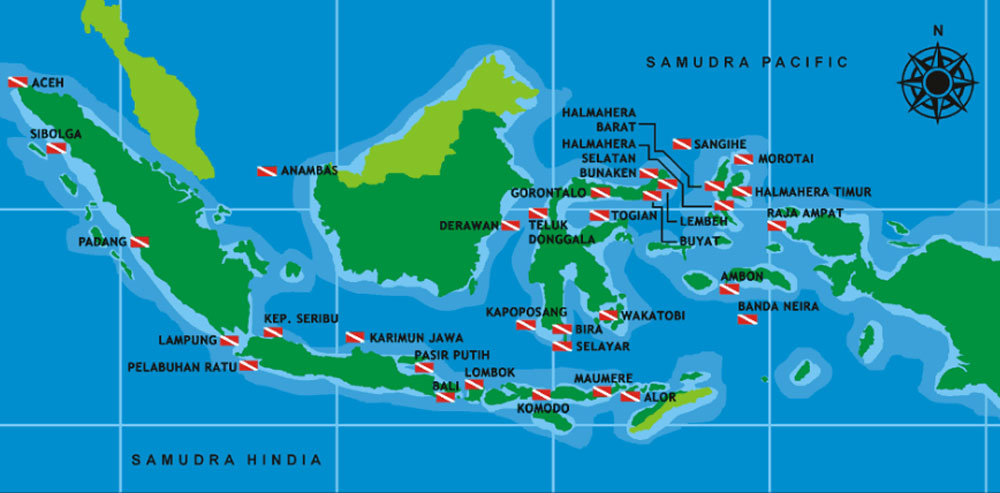 Our listed ships cruise the Indonesian Archipelago to various destinations on high demand of divers, snorkelers and explorers such as:
Indonesia is little known to divers out there that it is actually one of the world's best scuba destination even though it has many beautiful diving spots.
Indonesia has one of the longest coastline in the world stretching from the Indian Ocean to the east and Pacific Ocean to the west.
Being part of the Coral Triangle of the world, Indonesia has a diverse marine life with 20% of world's coral reefs. There are over 3000 fish species and 600 coral species to discover, where the dive sites come in diverse types from coral, steep walls, deep water trenches, wrecks and underwater volcanic mountains. To top it off, diving in Indonesia is affordable.
The best time and weather to dive in Indonesia are during the dry season of April to December. But it is generally alright to dive all year round.
Forming one corner of the 'Coral Triangle', the epicenter of world marine biodiversity, and containing 20% of the world's coral reefs, it will come as no surprise that it boasts the most diverse waters in the world.
Indonesia is a part of the Coral Triangle of the world. This means that this one country has 20% of the world's coral reefs, resulting in a beautifully diverse marine life!
As well as bright and colorful dives, you will also stumble upon a wide variety of experiences. Think of deep water trenches, sunken wrecks, and underwater volcanic mountains, all waiting to be explored.